If you need to transfer your Pro Tools session to someone else, here are some foolproof ways to get everything you worked on, sent off safely.
#1 Send a full copy of you Pro Tools Session
If you need to send a full copy of your session to mix, review, backup, etc.
Choose: File > Save Copy In …

Check Audio Files in Items To Copy

Click OK, and choose a name and place to store you session backup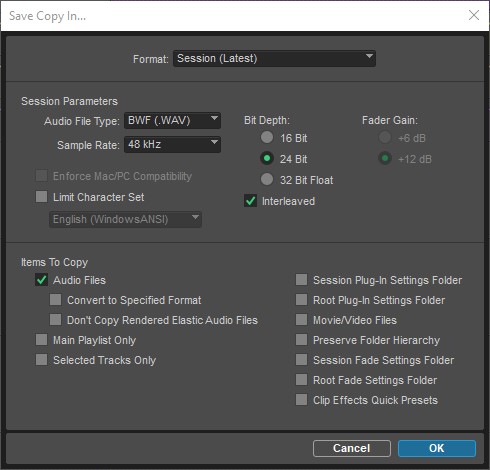 Make sure that Sample Rate and Bit Depth matches what you are working on. Typically that would be 24 bit and 48 khz.
Don't choose to copy the movie/video files, but rather send it manually if needed. Video files tends to be rather large, and sometimes it's preferable to send it separately, or maybe the recipient already have it, and doesn't need a duplicate.
If you are sending across operating systems (Mac -> Windows) then make sure to check the Limit Character Set option, and keep it on English (Windows ANSI). This will remove special characters that otherwise might cause trouble.